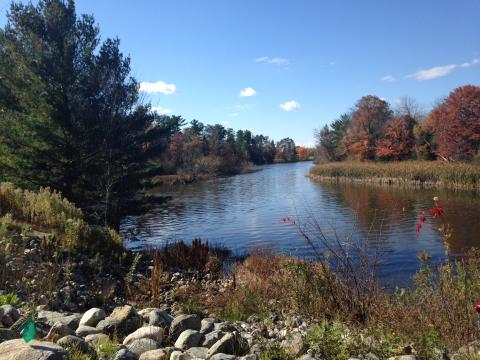 Since the presidential election in November 2016, the state of Wisconsin has de-registered over 482,000 voters from its rolls. This is according to the numbers that The Wisconsin Elections Commission post to their website. Looking at the history of voter registration levels in that state, there was an unprecedented rate of voter purging starting in August 2017, that continued through the beginning of 2018. The September 2018 numbers were just released the other day, and show 3,137,954 registered voters in the state of Wisconsin. While this represents the continuation of a modest increase over the past few months, the count of registered voters is still notably down from the overall peak in late 2016. Below is a chart of voter registration levels as reported by the Election Commission website. The red vertical lines indicate the date of a presidential election. This chart was generated using Highcharts.
Wisconsin state law mandates that voters be purged after 4 years of inactivity. Could these be the missing voters who didn't come out in the 2016 presidential? Turnout in 2016 was 2,976,150 compared to 3,068,434 in 2012. So there was a drop, but not nearly at the numbers being purged now.
Wisconsin already has a strict voter ID law. Although according to the Commission's website, there may be exceptions, consult the Election Commission website for details. What should be of concern here is how can these policies passively discourage individuals not familiar with these laws from voting? Perhaps these laws are well intended, but their net effect are disenfranchising people who need to be heard the most by their politicians. Wisconsin does also allow same-day voter registration. This is very different from my home state, which has deadlines to register anywhere between 7 and 22 days before an election (depending on the election type). One still needs to provide all the documents necessary to provide proof of Wisconsin residency.
Other states have also been aggressively purging their voters, and in some cases, under mysterious circumstances. If you aren't sure if you are registered, you can check Vote.org.
10/3/2018 Update:
I've added the voter registration number for October. I'll continue to make those monthly updates when I have the opportunity.
8/15/2019 Update:
Follow Up post about another 68,000 voters de-registered 
1/2/2020 Update:
Conservatives are trying to remove another 230,000 voters off the rolls.
An earlier version of this chart had an error that caused all numbers to be off by 1 month. this has now been corrected.
Table Data
| Date | Registered Voters |
| --- | --- |
| 10/1/2008 | 3,502,196 |
| 4/3/2009 | 3,765,074 |
| 10/20/2010 | 3,419,127 |
| 12/28/2010 | 3,493,306 |
| 7/13/2011 | 3,285,704 |
| 2/8/2012 | 3,275,607 |
| 8/9/2012 | 3,453,794 |
| 9/28/2012 | 3,461,587 |
| 10/8/2012 | 3,467,112 |
| 10/19/2012 | 3,487,295 |
| 11/5/2012 | 3,515,230 |
| 11/5/2012 | 3,515,813 |
| 12/3/2012 | 3,643,951 |
| 1/4/2013 | 3,695,584 |
| 2/1/2013 | 3,697,016 |
| 3/1/2013 | 3,690,529 |
| 4/1/2013 | 3,682,428 |
| 5/1/2013 | 3,633,419 |
| 6/1/2013 | 3,402,349 |
| 7/1/2013 | 3,401,125 |
| 8/1/2013 | 3,399,169 |
| 8/1/2013 | 3,399,169 |
| 9/18/2013 | 3,395,140 |
| 11/5/2013 | 3,380,843 |
| 12/1/2013 | 3,379,460 |
| 1/1/2014 | 3,374,647 |
| 2/1/2014 | 3,368,946 |
| 3/1/2014 | 3,364,966 |
| 4/1/2014 | 3,362,279 |
| 5/1/2014 | 3,379,930 |
| 6/1/2014 | 3,378,487 |
| 7/1/2014 | 3,375,755 |
| 8/1/2014 | 3,374,366 |
| 9/1/2014 | 3,380,491 |
| 10/1/2014 | 3,385,151 |
| 11/1/2014 | 3,402,741 |
| 12/1/2014 | 3,475,958 |
| 1/1/2015 | 3,488,772 |
| 2/1/2015 | 3,482,910 |
| 3/1/2015 | 3,478,273 |
| 4/1/2015 | 3,473,602 |
| 5/1/2015 | 3,477,606 |
| 6/1/2015 | 3,475,266 |
| 7/1/2015 | 3,472,406 |
| 8/1/2015 | 3,384,168 |
| 10/1/2015 | 3,379,480 |
| 11/1/2015 | 3,377,108 |
| 1/1/2016 | 3,373,861 |
| 3/25/2016 | 3,387,048 |
| 4/1/2016 | 3,393,706 |
| 5/1/2016 | 3,481,754 |
| 6/1/2016 | 3,495,379 |
| 7/1/2016 | 3,498,937 |
| 8/1/2016 | 3,492,577 |
| 9/1/2016 | 3,496,198 |
| 10/1/2016 | 3,505,062 |
| 10/19/2016 | 3,532,566 |
| 10/26/2016 | 3,548,780 |
| 11/2/2016 | 3,558,877 |
| 11/16/2016 | 3,619,996 |
| 12/7/2016 | 3,711,904 |
| 12/28/2016 | 3,729,682 |
| 2/1/2017 | 3,725,985 |
| 3/1/2017 | 3,716,483 |
| 4/3/2017 | 3,708,673 |
| 5/1/2017 | 3,710,544 |
| 6/1/2017 | 3,707,701 |
| 7/1/2017 | 3,591,846 |
| 8/1/2017 | 3,351,591 |
| 9/1/2017 | 3,349,816 |
| 10/1/2017 | 3,347,549 |
| 11/1/2017 | 3,345,821 |
| 12/1/2017 | 3,276,572 |
| 1/1/2018 | 3,264,677 |
| 2/1/2018 | 3,032,399 |
| 3/1/2018 | 3,043,021 |
| 4/1/2018 | 3,058,349 |
| 5/1/2018 | 3,085,428 |
| 6/1/2018 | 3,087,256 |
| 7/1/2018 | 3,092,580 |
| 8/1/2018 | 3,112,905 |
| 9/1/2018 | 3,137,954 |
| 10/1/2018 | 3,163,670 |
| 11/1/2018 | 3,252,407 |
| 12/1/2018 | 3,403,856 |
| 1/1/2019 | 3,425,218 |
| 2/1/2019 | 3,420,099 |
| 3/1/2019 | 3,416,204 |
| 4/1/2019 | 3,411,227 |
| 5/1/2019 | 3,419,294 |
| 6/1/2019 | 3,416,739 |
| 7/1/2019 | 3,414,141 |
| 8/1/2019 | 3,346,021 |
| 9/1/2019 | 3,318,929 |
| 10/1/2019 | 3,329,127 |
| 11/1/2019 | 3,304,979 |
| 12/1/2019 | 3,304,914 |
| 1/1/2020 | 3,306,906 |
| 2/1/2020 | 3,308,904 |
| 3/1/2020 | 3,319,643 |
| 4/1/2020 | 3,387,130 |