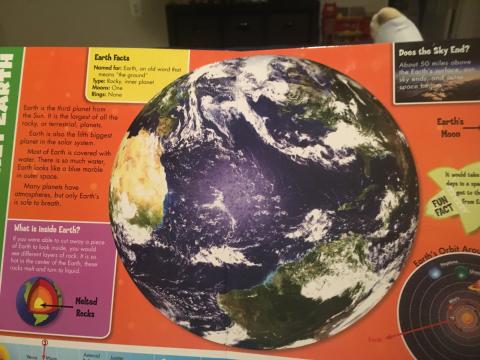 Pictured above: I bought this children's book about planets for my son in the book store bargain bin. The page about the earth, is pictured as a mirrored image. An obvious mistake from the book's publisher.
One of my favorite youtube channel's is one by a fellow who goes by Potholer54. His real name is Peter Hadfield, and he is a Geologist by training, turned science reporter for the past 30 years. I referenced one of his videos in my last post in regards to Scott Adams' Climate Change Challenge. I'll generally refer to him just as "Potholer". His channel is notable for posting videos that debunk dubious scientific claims. One frequent subject on the channel is climate change. Over the years, Potholer has developed feuds with several personalities who believe that the concept of climate change is not something that requires any urgent attention. These people include Christopher Monckton, Stephen Molyneux, Steven Crowder, Suspcious Observers, Bill Whittle, Patrick Moore, and Prager University. Well, it may be a stretch to call some of these "feuds." But one of these cases have resulted in an attempted live debate with Steven Crowder. Sadly, that debate never actually happened, due apparently to the changing format of Crowder's show. Others have been featured regularly in Potholer's videos as Potholer debunks various claims they have made.
Tony Heller, AKA Steven Goddard, is a notable personality in the climate change debate. He runs "The Deplorable Climate Science Blog" https://realclimatescience.com/. And he recently posted a video criticizing some points that Potholer has made over several of his videos. One of Heller's videos was one of the links that Scott Adams had tweeted in his follow up in his Climate Change Challenge. Heller seems to have his own prolific youtube channel. Last Saturday, Potholer posted a response on his channel to Heller's criticisms. 
Heller in turn, posted his own video again criticizing Potholer's that same day.
 
At the end of Heller's video, he mentions that a possible live debate between Potholer and Heller might be in the works. If this turns out to indeed happen, I certainly look forward to it. After the false start with a live debate with Steven Crowder, Potholer is well prepared for such a debate.